...so i've always loved petit fours more specifically petit four glaces (iced)......there's something about little mini decorated cakes....!...but i've always been a little leery of making them.....they look so pretty and delicate but seem like a load of work and preparation.....these are much simpler than traditional petit fours....first off i started from a "petit four" pan that i got for christmas....
....much simpler in that there is no layer in between of filling or jelly....so maybe that's cheating but trust me these are sweet enough and don't really need a filling!....i used a boxed pound cake mix....i tried this pan once before using a regular boxed cake mix and the cake was too light and didn't hold the petit four shape as well once it was baked....(actually once covered with the glaze...you can't really see the shape much anyway...)

....the glaze is actually a recipe that came with the pan....i looked up a few recipes and they were all kinda similar....but this one used the microwave so seemed even simpler to me....
1/3 cup of light corn syrup
1/2 teaspoon of almond extract (i used lemon extract b/c my kids have nut allergies)
mix all the ingredients together (except for food coloring)....which looks like this.....
...then microwave for 45 seconds and stir.....separate into bowls and add food coloring.....microwave each bowl for another 30-40 seconds until glaze is more runny.....
...spoon glaze over petit fours....you can cover entirely or i left some of the cake showing through.....you have to work kinda fast because the glaze starts to set pretty quickly....
....i did 2 batches with the pan....and then let them set for about 10-15 minutes......
....originally i wasn't going to decorate to save some time.....but since the glaze was a little thicker than i was thinking it would be and you can't really see the pretty design from the pan....i used a little vanilla buttercream i had to do some simple decoration on top....
...all in all i think from start to finish this took about 2 and 1/2 hours.....which i guess is not super fast, but it's faster than regular petit fours from scratch....!...then again you also need the pan...but you could always just buy pound cake and cut out squares....i think i've seen that as a short cut too.....
...either way make them!....because they are cute and yummy, and this way is pretty easy....and you can do all different colors for birthdays, weddings, showers, holidays (they would be great for easter coming up!), or just to say "yay....it's friday and it's almost spring!"......have a great weekend and thanks for stopping by!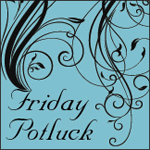 also linking to sweet tooth friday